Scans from 1964
This is the first year that I was using the nice Bronica that Michael had given me, and the pictures aren't so good from a technical standpoint. All but the last three date from June 1964, but within that first group, I've made no attempt to arrange the images in chronological order.
In all cases, you can see a much larger version of the picture by clicking on the thumbnail that you see on this page. And as usual, return to this page by clicking the "Return" button on your browser.
That June, the Lubins, having recently returned from Japan, were visited one day by a troop of Japanese ladies, whom we all showed around the touristy parts of Boston. This had to involve a ride on a Swan Boat, naturally, and if you look, you can see Michael, Mary, Beth, and James among the tourists.
| | |
| --- | --- |
| | |
| At home | Pigeon-feeding |
| | |
| Group photo | Commonwealth Ave. |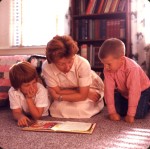 Reading
Thanksgiving dinner on Staten Island, showing Bernice Cooper, the Watertown Lubins, Al Sloan, and his sister Bella.
Beth, Christmas
Christmas: James,
Al, and Virginia
Return to the family page;
to the central page.
This page last modified 090406.