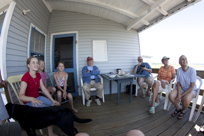 Madison, Harris, Devlin, Howard,
Mark, Nancy, Cindy. You can get
a very large view or a smaller one.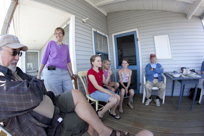 Mike, M'lyn, Madison, Harris,
Devlin, Howard.
Large view, smaller.
Since Mason would have to get to college early, Cindy set up their stay in Maine for the first two weeks of August instead of the second two. We all—the present and past Rhode Island contingent—had had so much fun in Pine Point last year that we decided to turn heaven and earth to make sure we could get there. For Mark and me, that meant postponing the August Party one week, not any kind of hardship.
For all of us, it did mean arranging for a week's lodging somewhere, since the cottage is so tiny: already, the elder Kings and the King-Moorman family would be staying there, and later, Adrienne and Robert King would be there too. And for Mark and me, it meant that we should find a place that conveniently slept three, since all concerned agreed that Nancy Rose would be part of the extended family.
We did all of the things that one must when in Southern Maine: the kids went to Old Orchard Beach and at high tide, they got rowed about in the bay by Mason; we all got ankle-deep in the ocean; some sunned themselves, and others hid in the shade of the deck; and all went for fried clams and clam chowder at Salty Bay a couple of doors down from the cottage.
I took a lot of pictures, but I think not as many as I had a year earlier. I brought with me the nice cheap fish-eye lens that I had bought in the Spring for the Iceland trip. These lenses always distort everything very much, and if you want any straight line to look straight in the picture, it had better go through the very center. The pictures on the deck and inside the cottage were all taken with this lens.
What was a bay at high tide becomes clam flats at low. (It's only at high tide that a clam is happy.)
There were beautiful skies there during the week. We don't have skies very often in Southern California—just a fea­ture­less blue dome up above, day after day. The fourth picture in this row was so nice, I thought, that I took care to make up a high-quality 11 by 17 print of it to tape to a cabinet door for the August Party. Mark said that he had seen so many pictures like it through the years that he couldn't get very excited about it. Bummer.
I didn't always take my camera with me from our rented house to the cottage: too much stuff. The next day I took pictures was the third of August, Mark's birth­day, when we were expecting to have a monster sea­food dinner. Instead of taking Nancy's car, Mark and I walked along the beach.
M'lyn, Devlin, Cindy, Howard.
Large view, smaller.


M'lyn, Devlin, Harris, Cindy,
Nancy, Howard, Mason.
Large view, smaller.
Adrienne, Robert, Walter, Mark.
Large view, smaller.
Same cast of characters.
Large view, smaller.
The birthday din­ner had loads of spec­ial fea­tures. Cindy needs lob­ster, while Mark and I are at best neutral about that dish. We prefer scallops, and the local supplier, Bayley's Lobster Pound can be trusted to supply the freshest possible. It's just a few steps down the street, in the opposite direction from Salty Bay.